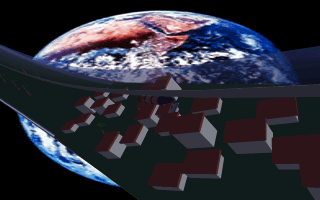 SLIDESHOW OF MY PREVIOUS MODEL (SCANNED). If you can't stand the download wait go to the clickable map

I remember reading a National Geographic as a kid that had these fantastic paintings of a city built in space. The city was not science fiction, but an actual design that the L5 Society was planning to build within twenty years if they could obtain private funding.

The concept is based on the Lagrangian libration points that exist in five locations between the earth and the moon orbits, where gravity is neutral due to the countering effects of the gravitational fields.If an object was to be placed in one of these points it wouldn't move in relation to the earth.

If an object at points L1, L2 or L3 was to be moved, it would be displaced, but at points L4 and L5 it would return to its original position.

A full description of this can be found at theTucson L5 Society.

In the 1970's Dr O'Neill proposed that a space colony or colonies could be built at L5 point.The purpose of the colony or colonies would be to serve as habitats for lunar miners and as a transfer station for material mined from the moon.

Using modern computer 3D drafting I have created a model of Dr.O'Niells' space colony, and hope you enjoy the trip through it as much as I enjoyed reading the original National Geographic article..



SEE the Animation of the Model-coming soon!